Bouldering League
ADD AN EDGE TO YOUR TRAINING
Find the competitive spirit, form a team with your friends, and go head-to-head with other teams at Bloc Garten. At the end of each session, scores for each week will be totaled and a winning team each session will be immortalized on the Bouldering League Champions Plaque and receive a $400 cash prize. 

Date: 8 week league, January 19 – March 16
Time: 5 – 9 PM
Cost: $30 for members, $60 for non-members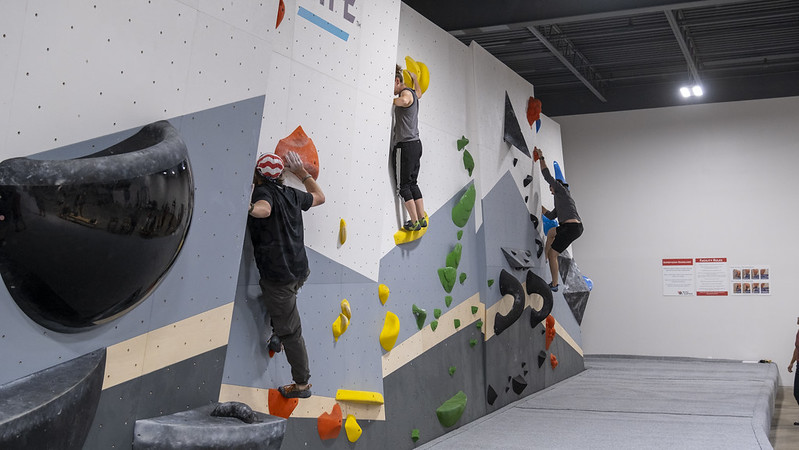 Team Requirements:
Teams must be comprised of 2-6 Climbers; all climbers are welcome. Team name must be presented at the time of signup, name can be changed. Scoring will be done on paper scorecards handed out during League times.
Non-members do not have to pay for entry during the League meeting time but will be required to pay for entry outside of League meetings.
See any gym staff to assist with registration questions or email the Bouldering League Coordinator at Joe@5.life.

 
Rules and Scoring:
Each climber will have their top 3 boulder sends averaged with that of the other climbers on their team to give each team a weekly score.
Each team will have their scores totaled at the end of the session to determine the winner.
Scores will be based off your registered flash grade.

Flash grade sends will be worth 200 points
one grade above flash will be worth 1000 points
two grades above flash will be worth 2000 points, etc.
ex – if your flash grade is Orange you would earn 200 points for sending an orange, 1000 for sending a blue, 2000 for sending pink etc.

Each team will have their lowest week's score dropped from the final score.
Climbs will be limited to the two newest sets and the competion wall at Bloc Garten.
All climbs must be seen and signed by someone not on your team, so another team or staff member during meeting time. Videos do not count.
Opportunities for bonus points will include posting and tagging @Blocgartencbus and/or @climbingby5.life with the hashtag #BlocABL.
Location 
614 929-6277
512 Maier Place
Columbus, OH 43215