Mother Crushers
Fearless Female – a Study on Stella
My daughter Stella is currently 11 years old and has never been one to hide or hold back her emotions. She is sensitive, loving, caring, adventurous, and thinks outside the box. These are characteristics we love, but they have brought many challenges for Stella. She is also anxious, inattentive, and impulsive with her reactions and emotions. This is Stella in a nutshell and how climbing has taught her how to deal with pressure, stress, her emotions, and when to just enjoy a good climb.
Stella Before Climbing:
Stella was kicked out of gymnastics for being the kid that "never listens to the teacher" and had a coach who didn't understand her needs. She tried soccer, but she didn't want to take the ball from her friends on the other team and preferred to pick flowers or follow butterflies. What to do? We knew she had a lot of energy and we wanted her to learn the benefits of a team sport. We dabbled in lacrosse, T-ball, you name it, and she still wasn't enjoying sports. We were at a loss.
How climbing came into Stella's life:
At a family reunion, our cousins asked if Stella was as squirrely as I was as a child. I responded immediately by saying "even more". So, they invited us to try indoor rock climbing. We went to the gym, Stella loved it, we signed her up for class with Coach Brad, and before long we, as parents, had to take a Rope 101 class in order to keep up. Stella LOVED climbing; she would go everyday if she could. It was love at first auto-belay.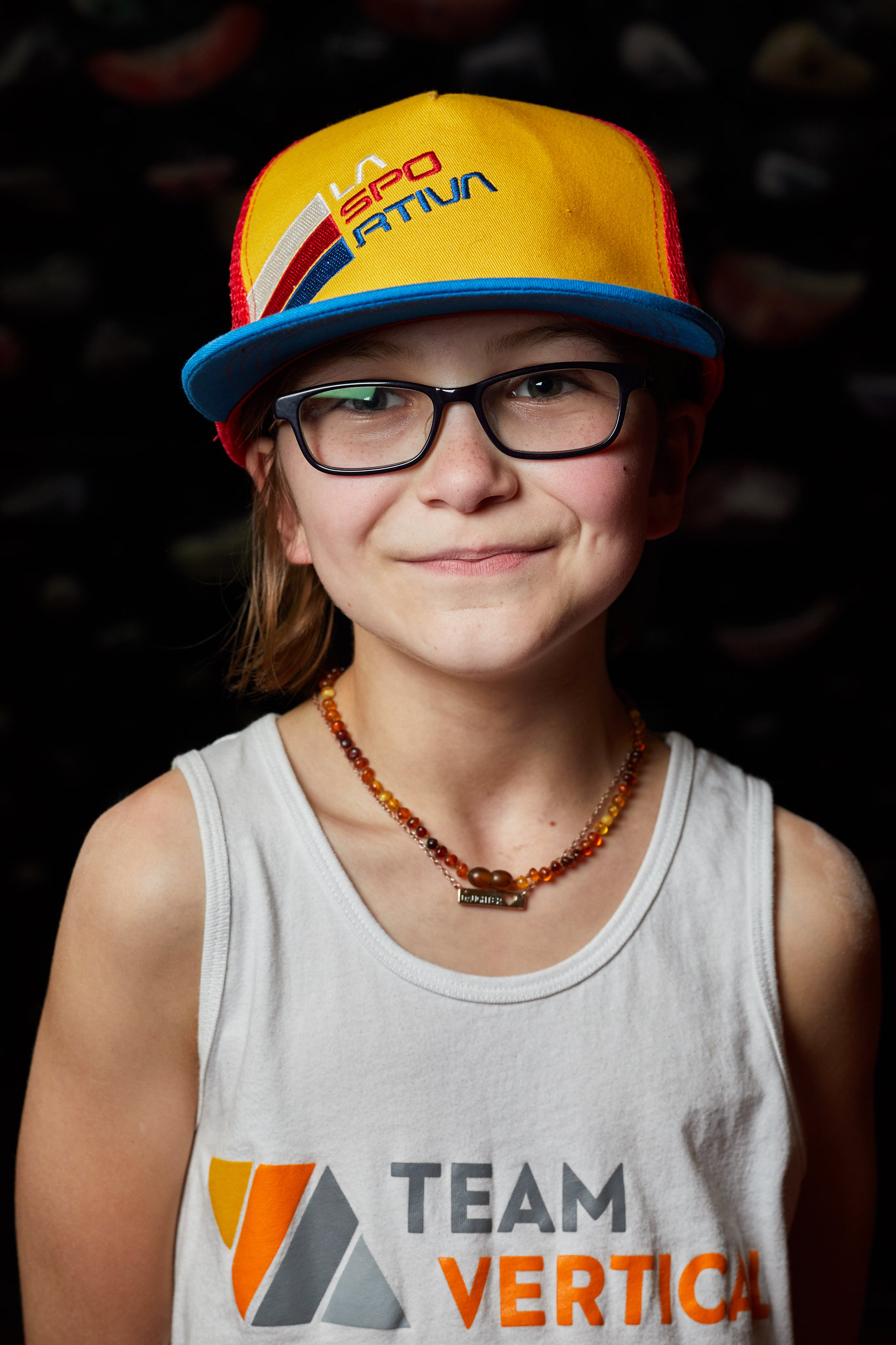 Emotions start:
As Stella continued classes, her excitement and love of the sport continued to grow. When you start something new that you really enjoy it is fun and exciting at first, but soon you start to expect more out of yourself and want to improve. Stella has always put pressure on herself to do her best and never wants to disappoint anybody. As a 7-year-old, it was hard to handle. She would cry, shut down, and react impulsively. At this time, she was also diagnosed with ADHD-combined type inattentive and impulsive. These emotions and characteristics were interfering with school, her friends, and climbing, all things she enjoyed. We started teaching her "tools" and strategies to self-regulate both on and off the wall. Stella was crushing routes and started seeing her friends get invited to join the competition team. She had the skills but wasn't ready emotionally.
Dealing with emotions:
Stella continued to take classes and we worked on handling feedback, but others around her continued to join Team and Stella still wasn't ready emotionally. Stella was then in 2ndgrade and she started to feel defeated. Her emotions built up even more, and for the first time ever she stated to express some negativity around climbing. We encouraged her to continue and we focused on family climb time instead. She tried lacrosse and soccer again but kept climbing. Second grade came to an end and her family members were invited to join team but still not Stella. The tears continued, we talked her through it, and we tried to help her understand what she needed to work on.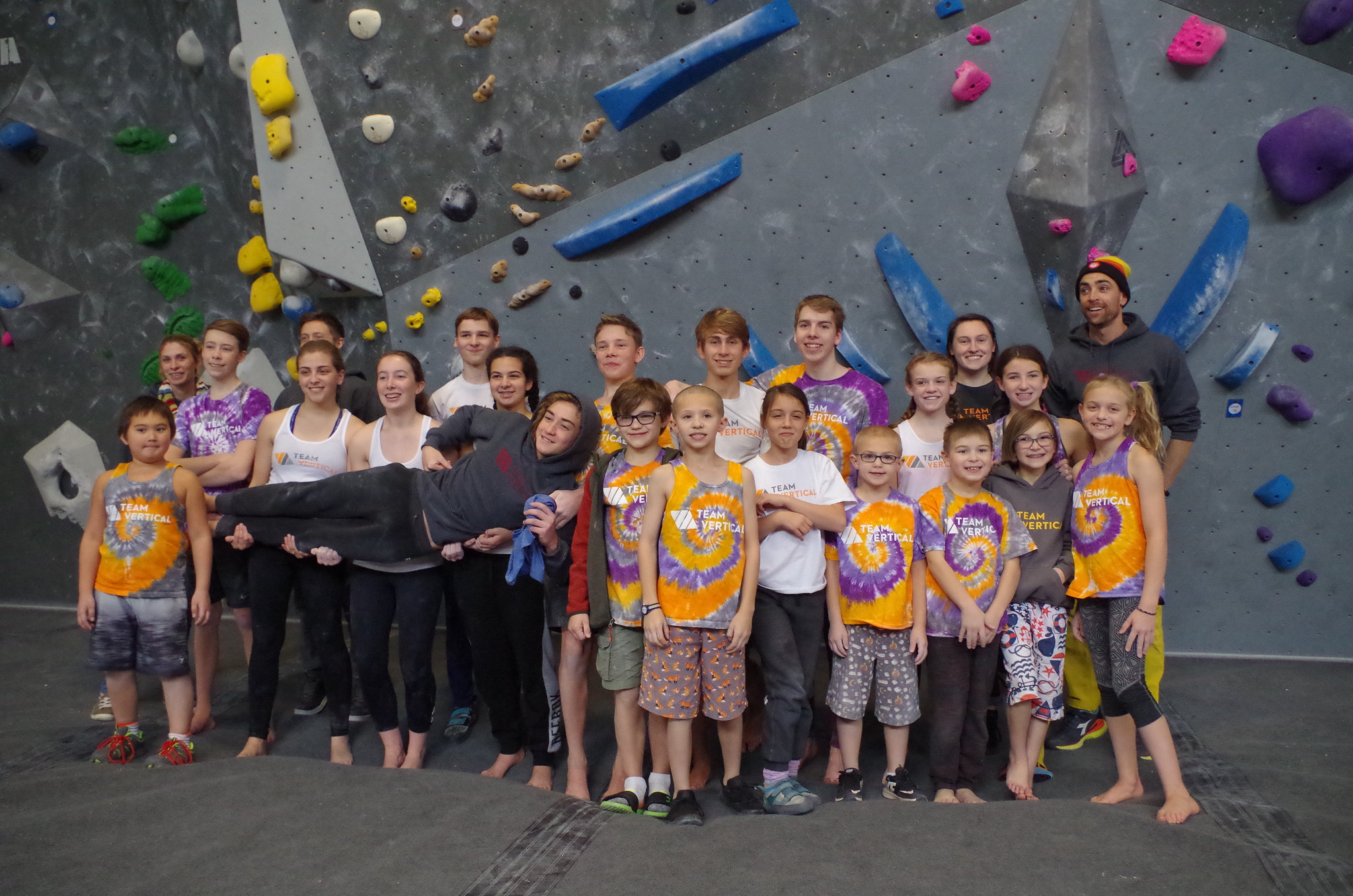 Bring on the comps:
Spring 2016, we decided to attend a local climbing competition so Stella could see what competitive climbing was about. She went, she loved the routes, and she wanted to get on the wall and join her friends. She didn't join the comp, just observed, but it made her want to compete and be part of Team even more. We decided to let her compete in the next local comp at Vertical Adventures, we helped her and there were tears, but she had a blast. Rope season ended and finally she was invited to join Team Vertical in Fall 2016, her 3rdgrade year.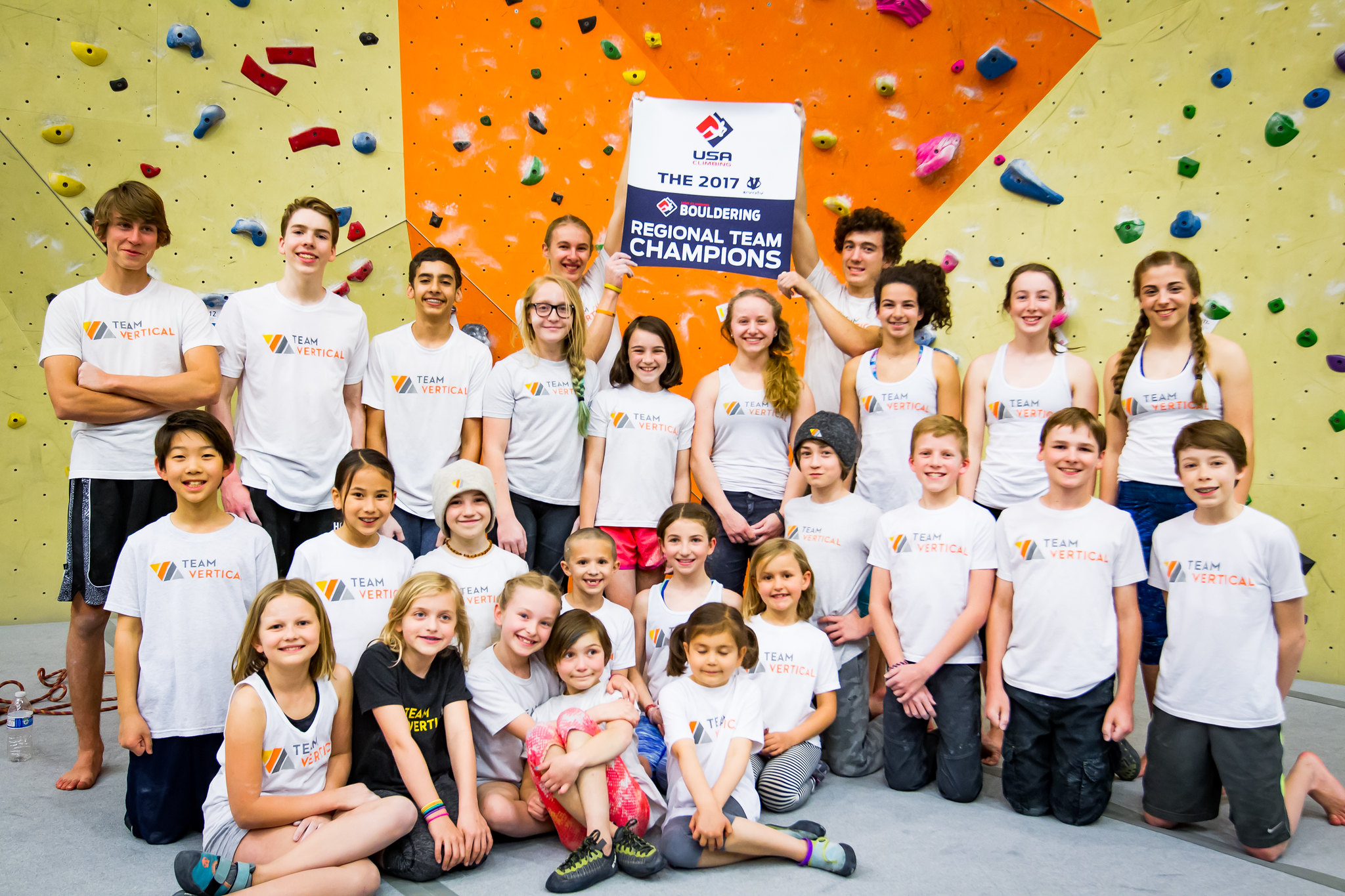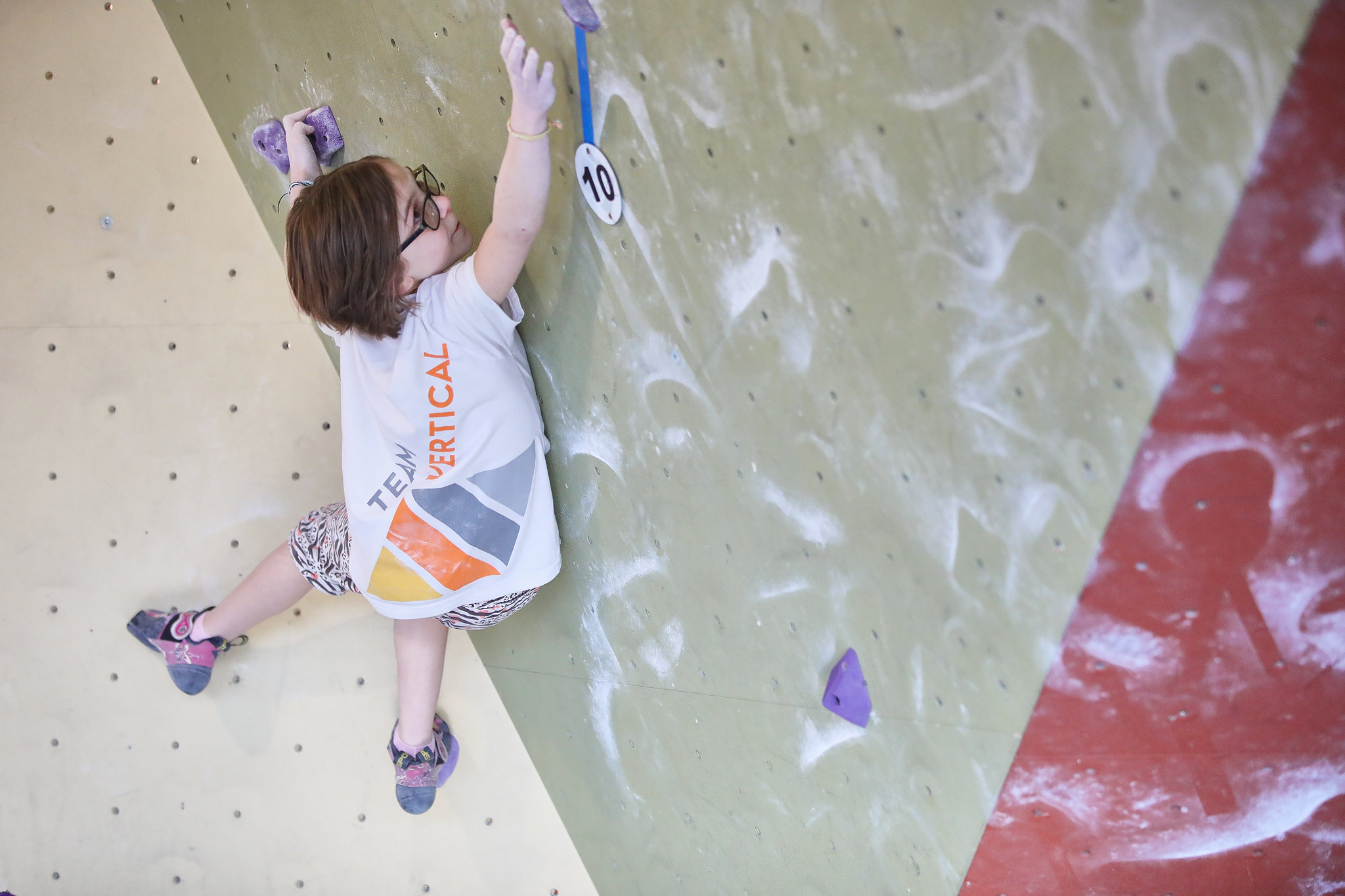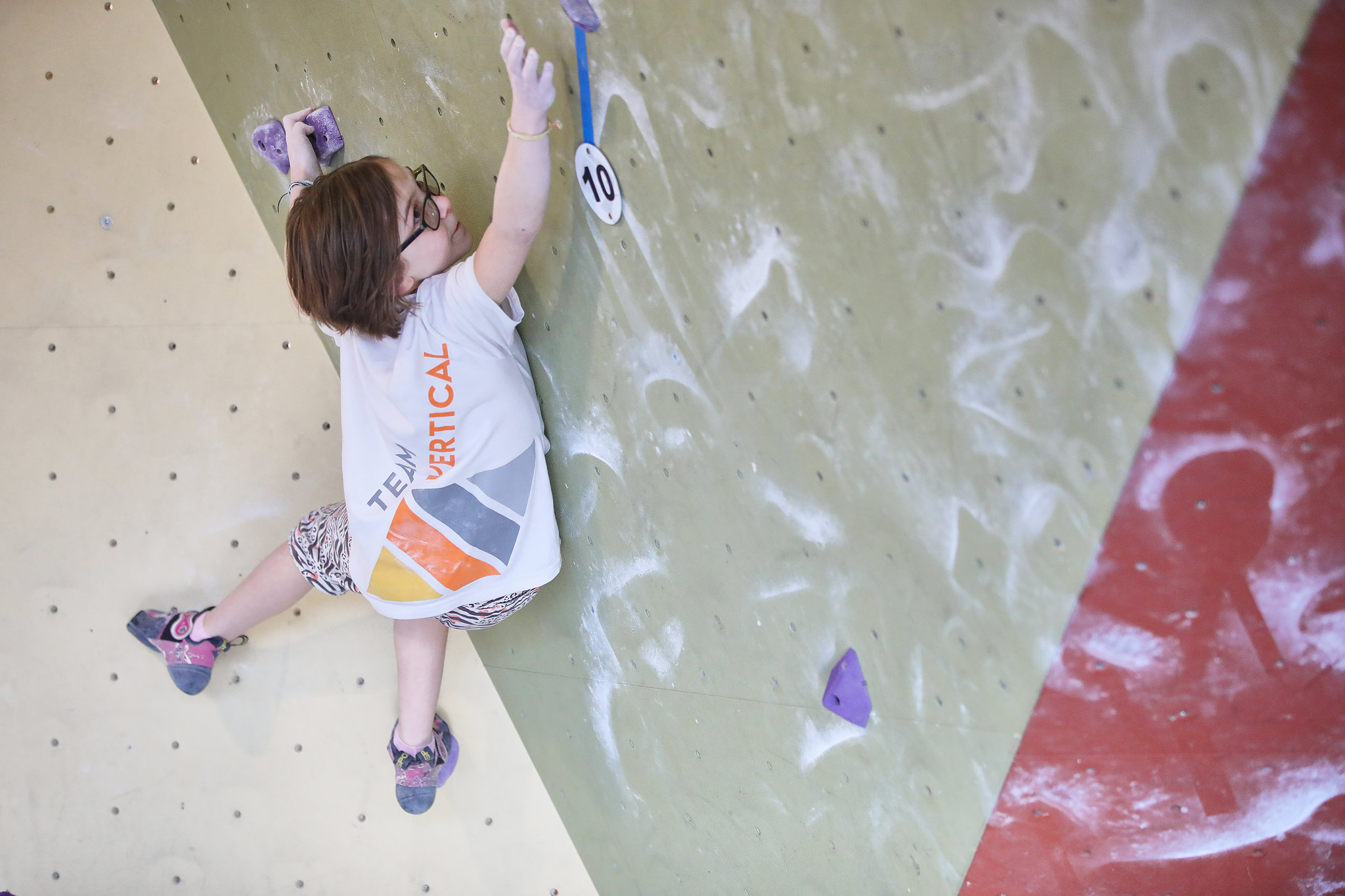 Joining Team Vertical:
The excitement she felt when we got the email was unbelievable. She was so proud. As the excitement built, the nerves and anxiety also began to brew. The emotional storm became stronger, she had wanted to be on Team for the past two years, and now she feared she might disappoint her new coaches whom she looked up to so much. August 2016, Stella started practicing with Team and was reunited with friends she from her beginner days. Even though the pressure was building, Stella worked hard to implement the tools and strategies she learned from us and her amazing climbing coaches.
Stella's First Season on Team:
September 2016, Stella had her first bouldering competition at Rock Mill in Akron, Ohio. A day she will never forget. I was nervous for her. How would she handle her emotions? All I could hope for was a positive experience and that she would feel proud of her hard work. It was a great comp, of course some ups and downs, but she finished in 3rdplace and experienced the benefits of being on a supportive team. The excitement was high, but Stella had even greater expectations for herself. She finished bouldering season and started into rope season. Her emotions continued to hold her back. She cried when she was nervous or sad, and when she was happy and proud of herself. As parents, we wondered how to help her balance her emotions. We wanted her to be expressive, but she was now 9 and she should be able to control them better, right? Or was she not meant to do a competitive, high stress sport?
Stella's Second Season on Team:
She loved it, she wasn't going to quit, so we worked more on managing emotions and applying strategies at home, school, and the climbing gym. Her confidence improved, she looked strong, she was proud but still hard on herself, and there were still meltdowns. Then Stella qualified for the USA Climbing Youth National Bouldering Championship at age 9. In February 2018 we went to Salt Lake City and she placed 41stout of 50 climbers. Only 9 girls, one of them being Stella, were under the age of 11. She was proud of herself, but as she transitioned to rope season her expectations continued to rise. Rope season went well, she climbed hard, but she didn't qualify for Nationals. She was heartbroken but she learned valuable lessons about trying hard, the importance of training and perseverance and how great it is to have wonderful teammates, coaches, and friends to lean on.
Stella's Third Season on Team:
Stella was now in 5thgrade and ready to head into bouldering season. There were more tears, more head game, but she was positive and ready to crush! Well, history repeated itself and she had another "bad day of climbing". She didn't qualify for bouldering Nationals and was heartbroken, I mean sobbing didn't give it justice. She felt defeated, negative, and started to play more into the head game of a competitive sport. We ordered books, talked to other parents with competitive climbers, and started to research how else we could support her. We gave her hugs, told her it'd be ok, but for her it wasn't ok. Again, her teammates at Vertical Adventures provided tons of support. She moped around for a good two weeks and we read books together as a family about positive thinking and mental toughness.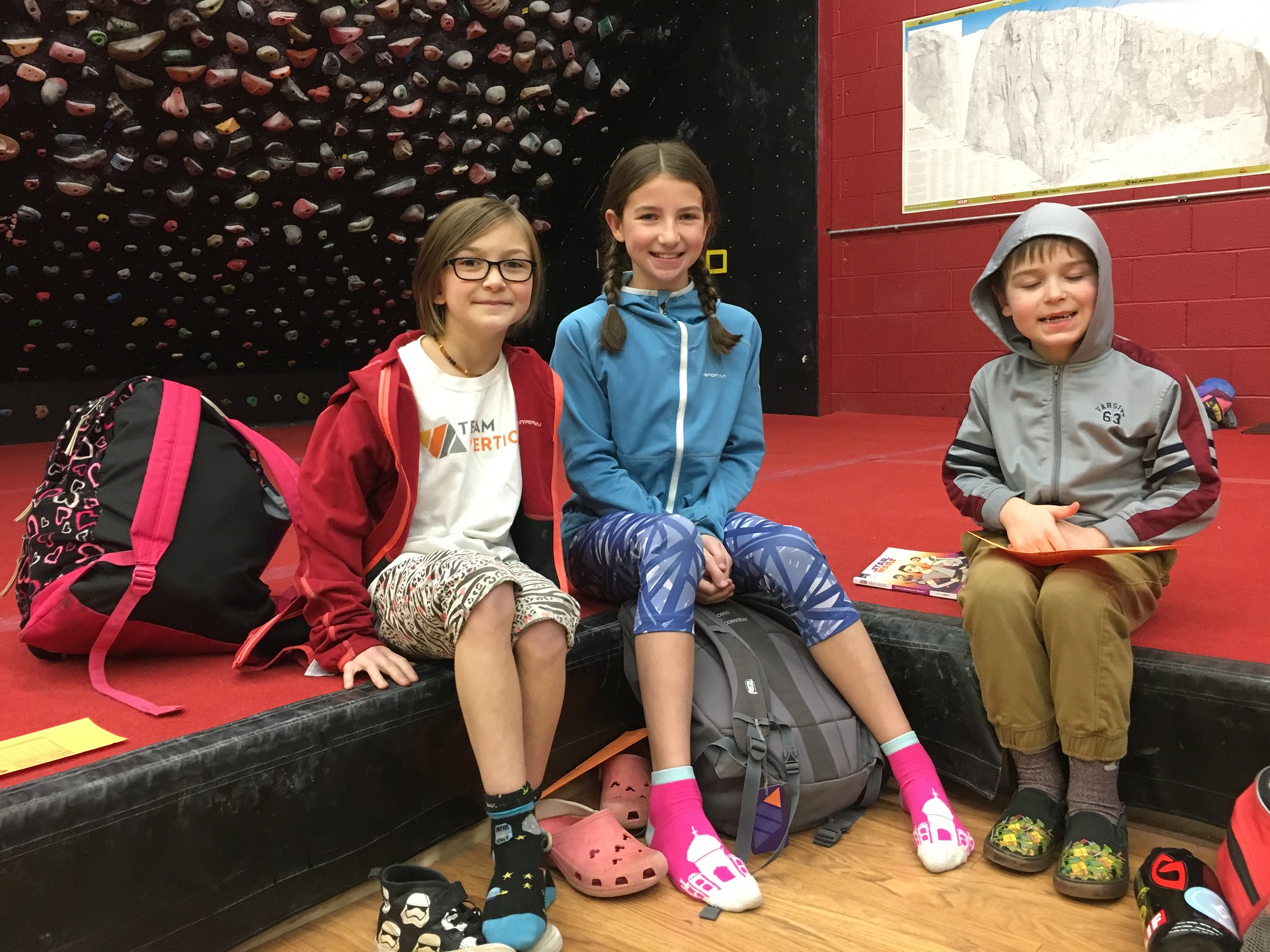 Stella re-grouped and was ready for rope season, March 2019. She smiled on the wall, cried after the comps, but they were tears of joy. She felt good about herself. We continued to talk about applying mental toughness to climbing, school, and all aspects of life. She tied for 1stplace at regionals, qualified for divisionals, and moved on to Nationals for sport and speed climbing. She crushed it. Stella is now the 6thfastest in the nation in her category and age group.
To say Stella tries to manage and handle a lot is true, she has a diagnosis of ADHD, is on a 504 at school to manage her testing anxiety, and just got diagnosed with scoliosis and will be braced 16-18 hours a day for curvature of the spine. Climbing has taught her so much and we are so happy she has found her "thing". We couldn't be where we are now if it weren't for her coaches, teammates, the amazing staff at Vertical Adventures, and our family who introduced us to the wonderful world of rock climbing. I promise she loves this sport, even when she is crying tears of joy for finishing a route. We are so proud of you Stella Jane, keep up the hard work and your mental toughness!