Make the most of your first visit.
Whether you're a first timer or a seasoned pro, we offer unique experiences for all climbers!
Discover Climbing
Don't worry or be intimidated! The basics of climbing are quick and easy to learn. Designed for people with little or no climbing experience, this 90-minute course teaches the skills needed to climb independently at our facility and is a great first-time climbing experience.
Book Now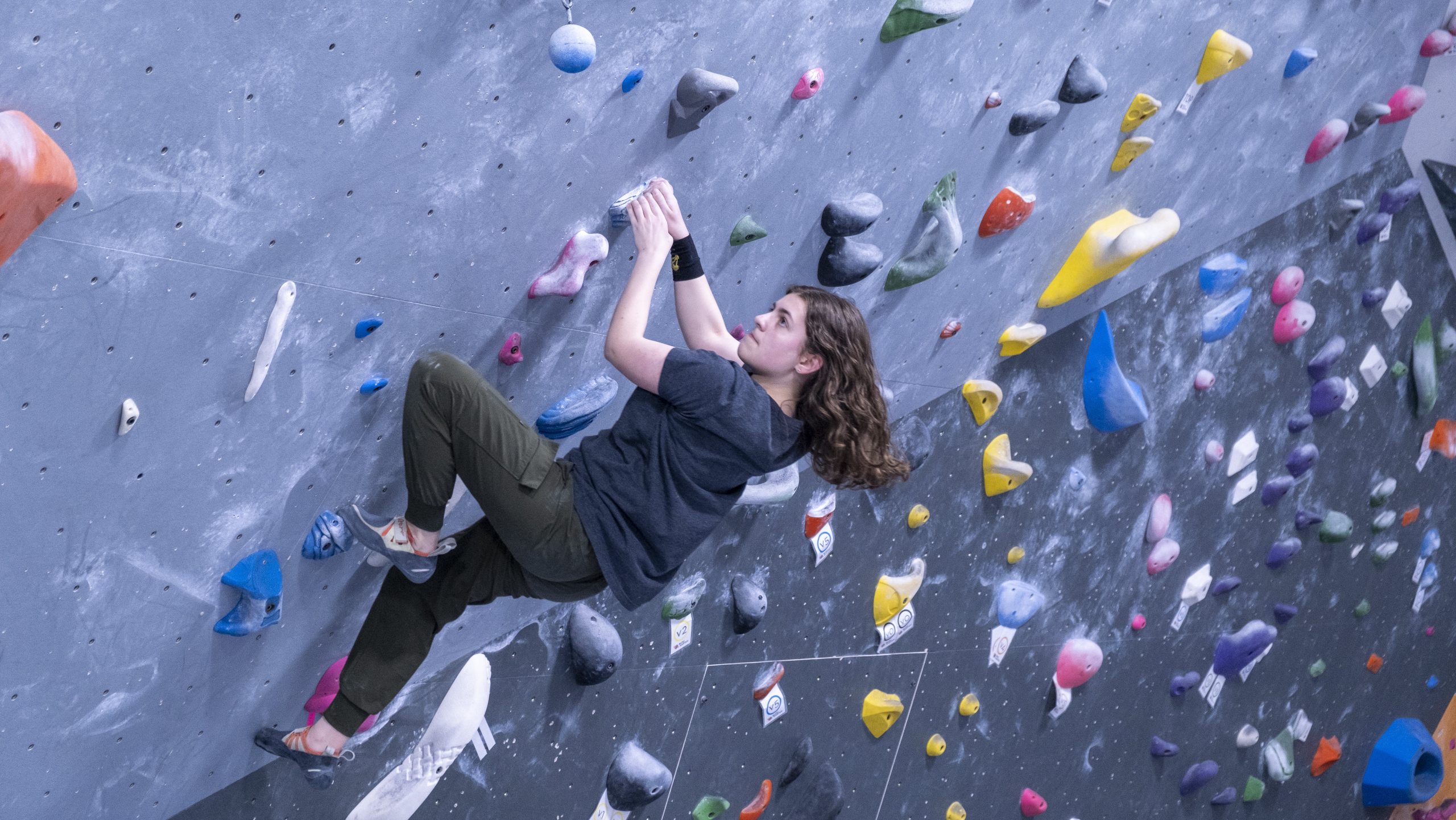 Day Pass Rates
Anytime the gym is open
Day passes are the least expensive way to visit the gym one time, but access to some climbs will be restricted until you have the training to pass our proficency tests.
Discover Climbing Fundamentals is the best value, gets you on all the walls and two weeks FREE.
Experienced Climbers must complete a waiver and orientation. 
First-Time Visitors: Save time and get FREE rental gear by completing your waiver online.
What to Bring
Climb Nittany is equipped with a filtered water dispensers, so bring a reusable water bottle to stay hydrated! 
Take a Class
Discover the indoor sport of climbing. We are here to help you through the first steps of your 5.Life journey. Here
Discover Climbing
Includes 2 FREE Weeks
Gym Day Pass
$23 Individual

$19 12 and Under

$ 7 Rental Equipment
*Punch Pass may be shared with other. Card holder must be present to share.
Frequently Asked Questions
Do I need to take a class or make a reservation to climb at your facility?
Walk-ins welcome. Our first-time, 30-minute lesson starts on the hour. Come 15 minutes prior to your class time to check in and get fitted for shoes.
Supervision guidelines do apply, see question below regarding kids climbing in facility. 
We do recommend booking your class ahead of time. Book Now
If you're new to Climb Nittany, but not to climbing, here are some steps to get you on the wall once you arrive.
ORIENTATION
Everyone must complete a. Auto-Belay and Bouldering orientation before being able to climb. To save time when you arrive we recommend you complet your waiver prior to arriving. Waiver 
TOP ROPE EXPECTATIONS
Everyone MUST have a Climb Nittany Belay Card visible on their harness whenever they are belaying. Ask a team member about doing a Top Rope check when you arrive.
Top Rope Belay Check Requirements:
Correctly tie in with a figure-8 follow-through knot backed up with a double overhand knot (sometimes referred to as a fisherman's knot or double fisherman's knot)

Correctly operate a Petzl GRIGRI belay device.
LEAD CLIMBING EXPECTATIONS
Everyone MUST have a Sender One Lead Belay Card visible on their harness whenever they are lead climbing or lead belaying. Ask a staff member about doing a Lead Climb/Belay check when you arrive or call in advance.
Lead Climbing and Belay Requirements:
Bring your own rope and belay device


– The rope must be at least 40 meters long



During the lead check, participants will be required to climb a 5.9, take a fall, and demonstrate proper lead climbing and belaying techniques
It's my first time, what do I need to do?
EVERYONE entering our facility is required to sign a waiver and complete a brief orientation. Children under the age of 18 must have a parent or legal guardian sign a waiver for them and watch the orientation video. Supervision guidelines apply to all youth climbers. 
Can kids climb at Climb Nittany?
Under 18 years old
A parent or legal guardian must sign a waiver and watch the orientation video.
Under 14 years old
Not permitted to belay (hold the rope)
Use of the Auto-Belay Machines (a device that holds the rope), requires an adult who has completed the Auto-Belay Orientation to double-check the climber before every climb.
Must follow these supervision guidelines:
4 years and under can climb within arm's length of their supervising adult. Each adult can only supervise two children this young at a time.
5-7 years old can climb under direct supervision (can see and hear them at all times) of an adult. Each adult can only supervise two children this young at a time.
8-14 years old can climb under direct supervision (can see and hear them at all times) of an adult. Each adult can only supervise three children this young at a time.
Alternately, we offer youth classes check, them out here.
Can anyone belay or lead climb?
To belay or lead climb at our facility, you must first pass a proficiency test with one of our staff members. Our staff are available most days and times to conduct a proficiency test, no appointment required.  
Kids 14 and over may belay after completing this waiver and passing a proficiency test with our staff. 
What kind of climbing do you offer?
We have bouldering which is climbing on shorter walls with no rope and lots of padding; top rope walls where a rope has been fixed at the top of the wall and a climber requires the support of a belayer; and we have lead climbing which is where experienced climbers clip the rope into the wall as they climb up. We also offer a handful of auto-belay devices.
What is good gym etiquette?
We're so glad you asked! Climbing is dangerous, so you must always be aware of your surroundings while in the facility. Keep space between climbers, don't walk between an active belayer (person holding rope) and their partner, and don't hold ropes if you have not passed a proficiency to use them. When bouldering, stay off the mats until you're ready to climb, down climb a few holds when possible to avoid jumping from height, and if you fall hug your arms to your chest, land on your feet, and roll onto your back to disperse the force. See our orientation video for more information!
Hours
Monday – Friday 12 PM -10 PM
Saturday & Sunday 9 AM-6 PM
Special Holiday Hours apply, Holiday Hours
Location
512 Maier Place
Columbus, OH 43215 Find Us
814 308-0230
Location 
614 929-6277
512 Maier Place
Columbus, OH 43215